About Attorney Paul Ferns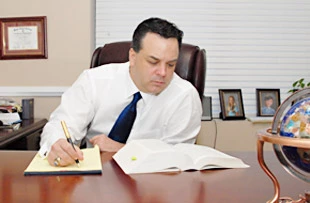 Paul J. Ferns is a lifelong resident of Warwick, Rhode Island. He graduated cum laude from Rhode Island College in 1992, and then from Western New England College School of Law in 1996. Paul became a member of Rhode Island Bar in 1996 and has been practicing law ever since.
His memberships and volunteer commitments have included:
Member of the American Bar Association since 1996
Member of the Rhode Island Inn of Court from 2000-2003
Member of the Rhode Island Association of Criminal Defense Lawyers
Volunteer trial coach for St. Rose Mock Trial team, 2001 and 2002
Volunteer basketball coach for Warwick Boys and Girls Club, 2003-present
Volunteer for Big Brother's Association of Rhode Island, 2006-present
Mr. Ferns was an associate at Schreiber and Schreiber Law Firm in 1996 before opening his own practice in 1997. Since then he has devoted himself to protecting his clients interests in Rhode Island family court, criminal court and civil courts in cases involving:
Divorce, property division, and alimony or spousal support
Child custody, paternity and child support
Criminal cases involving domestic assault, juvenile offenses, DWI/DUI, drug offenses and probation violations
Personal injury cases for those who suffered injuries and loss of wages in car and truck accidents and from medical malpractice
More in depth description of practice areas can be found here
Attorney Ferns prides himself on doing what is in the best interest of his client. That begins with careful listening and clarification of goals. If he suggests a course of action and the client does not agree, he will work within the guidelines of the client, not railroading someone to take an action they don't want to take.
You can count on attorney Ferns to be straightforward and honest. As a valued client you are a key part of the legal team and you will be treated with respect. Working together, we'll get you through to the other side of this difficulty. Mr. Ferns is here for you.
Get the legal help you need and the caring, personal attention you deserve. Contact the Warwick law office of Paul J. Ferns:
401-714-5526
or send us a note on our
contact us
page.