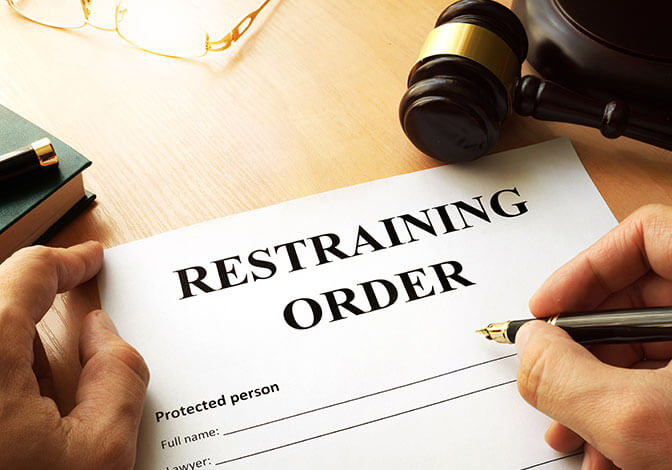 RI Restraining Orders Explained
How to File a Restraining Order in Rhode Island
Need answers about restraining orders or no contact orders? Take a deep breath. We've got answers.
A crumbling relationship is never easy to go through. But if your ex-spouse suddenly turns violent, you might be afraid for the safety of yourself or your children. Restraining orders can provide legal protection against a potentially dangerous person and offer peace of mind for you and your family. If you're looking for help with
filing a restraining order
, you're in the right place. Here's everything you need to know about
how to file a restraining order in Rhode Island
.
What is a restraining order?
There are two types of
restraining orders in Rhode Island
, No-Contact Orders (NCOs) and civil restraining orders.
No Contact Orders
are handled in criminal court. They're issued after the defendant has been charged with a crime during the arraignment. A
Rhode Island No Contact Order
will last the entire length of the criminal case, even during sentencing. The only way to drop one is at the request of the victim with judicial approval.
Restraining orders
, on the other hand, are handled in civil court. You can file for one whether or not criminal activity took place. Common reasons for seeking restraining orders include physical or sexual abuse, violent threats, or stalking.
Where do I file for a restraining order?
Where you'll file for a restraining order depends on what your relationship with the defendant is. If you're related by blood or marriage, then your restraining order should be filed in family court. Rhode Island family court handles restraining orders against:
A spouse
A former spouse
A person with whom you have a child in common
An adult related to you by blood or marriage
Family court also handles restraining orders filed on behalf of minor children.
If you and the person you're filing against aren't related by blood or marriage, then you can file for a restraining order in
RI district court
instead.
Rhode Island district court
handles restraining orders against:
An adult with whom you currently live
An adult with whom you have lived within the past three years
An adult with whom you are currently in a dating relationship or have been within the past year
If you don't qualify for a restraining order in either family or district court, you can apply for an order from the superior court. Note that violating a
RI Superior Court restraining order
is not an arrestable offense, so these types of restraining orders are not as binding.
Do I meet the criteria for a restraining order?
To obtain a restraining order in Rhode Island, you'll need to fill out all the necessary paperwork in family or district court. This usually includes an affidavit describing the specific ways that the defendant physically or sexually abused you, threatened to abuse you, or stalked you. You can find the
necessary paperwork
on the Family and District Court websites.
How much do restraining orders cost in RI?
Restraining orders filed in family and district court are issued free of charge, although there might be a small fee if the defendant lives out of state. There is a fee for restraining orders filed in superior court, however.
How long does a restraining order remain in effect?
This depends on the type of restraining order you have. When you first apply for a restraining order, you'll be issued a
Temporary Restraining Order
(TRO). Your TRO will last up to 21 days and allow time for the defendant to be served.
After the defendant is served, the restraining order itself will be granted at your second hearing. It can remain in effect for up to three years. However, it is possible to apply for an extension. Contact a Rhode Island attorney to file an extension before your first order expires.
What are the consequences of violating a restraining order in RI?
Violating a restraining order
is a criminal offense in Rhode Island. Violations of restraining orders issued in Family or District Court can be punished with up to a $1,000 fine, or up to a year in prison. It's not just in-person contact that qualifies as a violation. Contact made by phone, letter, email, or even through a third party are all considered to be violations of the restraining order. Although, there may be exceptions depending on the specific case.
Violations of a restraining order made in
Rhode Island Superior Court
are only considered civil violations. You'll have to summon the defendant back to court for a contempt of court order. If they attempt to contact you even after this, alert the police and contact the
best Rhode Island attorney
. Now is the time to take legal action.
Do I need an attorney to file a restraining order?
No. You can file a restraining order by yourself or work with an attorney. However, even if you choose to file a restraining order by yourself, we recommend consulting with a lawyer before filling out the paperwork. An experienced attorney can offer a nuanced look at the law and advice you on the best way to keep you and your family safe.
Who's the best attorney in Rhode Island?
If you need to file a restraining order, call
attorney Paul Ferns
. As a respected
divorce lawyer in RI
, Paul Ferns has filed numerous restraining orders on behalf of his clients. With his experience and caring approach, he'll walk you through every step of the process and file all the paperwork for you.
His clients appreciate the calming presence he brings to stressful situations. The safety of his clients is always paramount, and he'll work tirelessly to give you peace of mind. Contact the
best divorce attorney in RI
today for a free consultation.
It's ok. We're here to help.