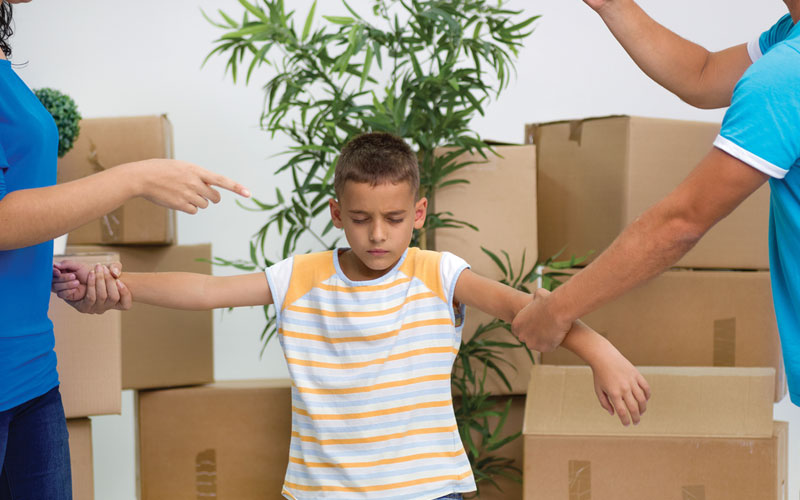 RI Child Relocation Questions
How to Win a Custody Relocation Case in Rhode Island: Give Yourself The Best Chance
Wondering if a
mother can move a child away from the father
, or if a
father can move away from a child
? It's ok,
Warwick RI Divorce Lawyer
Paul Ferns has answers for all your
RI child relocation questions
.
Once you signed the dotted line on your divorce papers, you probably breathed a sigh of relief. That stressful ordeal is finally over, and you can start focusing on living your life again. But sometimes, circumstances change after you finalize your divorce. If you have a new opportunity to relocate across the country, it's not as simple as packing up and heading out. If you still share
joint custody with minor children
, you'll need to
modify your custody agreement
before you can move.
However,
moving out of state with minor children
is often more easily said than done. Here's what you need to know about how to
win a relocation custody case
.
Reasons For RI Child Relocation
There are plenty of reasons why a parent might want to move after a
divorce in RI
. Moving might allow you to find better housing options, more employment opportunities, put you closer to extended family, or provide other benefits for yourself and your children.
However, not every parent's motivations are pure. Some parents use the relocation as an act of revenge. One parent may want to limit the amount of time their children spend with their ex-spouse, or to "punish" their ex for wrongdoing during the marriage. The reason behind your planned move is just as important as where you plan to move. The
Rhode Island family court
will definitely be on the lookout for any relocation efforts motivated by bad faith.
How far can a parent move with joint custody?
There are no limits for how far a non-custodial parent can move from an ex-spouse under Rhode Island law. However, if moving will impact your pre-existing custody arrangement, you'll need to obtain approval from both your ex-spouse and the court before you can follow through with your move.
Custodial parents vs non-custodial parents. RI Child Relocation
When it comes to
joint custody
, there are two basic terms to be aware of, the custodial parent and the non-custodial parent. The custodial parent usually holds primary physical and legal custody of the child(ren). The non-custodial parent either shares joint custody with the custodial parent or has
visitation rights
. It's usually more difficult for a custodial parent to move out of state than a non-custodial parent, although it's not impossible.
How to obtain a custody modification with joint custody
To move out of state with joint custody, you'll need to follow proper procedures. First, either you or your attorney will file a
letter with intent to relocate
and serve your ex-spouse. They'll have thirty days to either approve or object to your proposed move.
If your ex-spouse approves of your intent to move, you'll have the opportunity to renegotiate the conditions of your
child custody arrangement
. Then, you'll need a judge to approve the modifications in RI family court.
On the other hand, if your spouse objects to your planned move, then your case will likely escalate to RI family court. Both you and your ex will have the opportunity to make your cases both for or against the move, which the judge will consider carefully.
Important
: If you share custody of your children, don't attempt to relocate your children across state lines without obtaining proper permission from the court. This may be considered parental kidnapping under Rhode Island law. You can be charged criminally, be ordered to pay a fine, serve jail time, or even lose custody.
If you or your children are in immediate danger, you may be able to file for
temporary or emergency custody
to keep your child safe. Regardless of your specific situation, we strongly recommend contacting a
Warwick RI divorce lawyer
before taking children across state lines.
RI child relocation with sole custody or with no custody arrangement
What about parents with sole custody? If you have sole custody of your children, the right to move out of state is usually presumptive, although you'll still need to notify the other parent about your intent to move. Technically, if there are no court orders on custody in place, it's also possible to move your child out of Rhode Island without the other parent's consent.
We don't recommend moving children across state lines without notifying the other parent or obtaining proper permission from RI family court. When in doubt, consult with a divorce lawyer who specializes in
RI divorce law
for advice.
What factors does a judge look at in RI child relocation cases?
Relocating a child is a serious decision, and judges don't take it lightly. The court will look at a number of factors when determining whether or not the
relocation of the child out of RI
is in the child's best interest, including:
If the move is for health-related reasons, such as access to better quality hospitals or treatments
If the move is to be closer to extended family or other support networks
If the move is to protect the safety of your children or another household member
If the move will provide a parent, or the parent's significant other, better employment or education opportunities
If the move will provide better educational opportunities for the child
If the move will increase the child's or the overall family's quality of life in any other way
The burden of proof falls to the relocating parent. You'll need to make your case about how relocating will benefit your child's life. If your child(ren) are old enough to express an opinion, the judge will also take their wishes into consideration.
Who is the best divorce lawyer in Warwick RI?
Relocating with your children after a divorce is never an easy task, even if multiple factors are aligned in your favor. To give yourself the best possible chance of success, contact an
experienced Rhode Island attorney
like Paul Ferns to represent you.
Attorney Ferns combines years of legal expertise with a measured approach that brings calmness to tense situations. He can help you arrive at the arrangement that's best for your family, helping you obtain the happiness you deserve.
Contact the best lawyer in RI
for a free consultation.

Relax, you're in good hands.